Difference between Water Extraction and Mitigation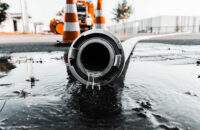 If your residential or commercial property has experienced any kind of water damage, there is no time to waste. Plumbing leaks, heavy rains, and natural disasters like hurricanes all can cause severe water damage to your home. The longer you let the water remain untreated, the higher the severity becomes of the suffered water damage. Water can lead to severe structural damage to your property; it can lead to mold growth, adversely affecting which can adversely affect a person's health and many more issues.  
Water damage restoration is a very complicated and confusing process. There are numerous steps in the water damage restoration process. Water extraction and water mitigation are just two steps in the long water remediation process. Understanding the difference between water extraction and mitigation is vital. Let's talk about these differences;  
What is Water Extraction? 
The water extraction process is the process of removing all standing and excess water from your residential or commercial property. This process doesn't just help prevent the prevention of further structural damage but also quickens the drying up process. The faster you dry out your property; the lower is the risk of mold growth and other water damage.  
Water restoration professionals have specialized equipment and tools to help remove excess water and other contaminated materials from the flooded location. Wet vacuums, sump pumps, blowers, and suction hoses are some of the equipment that might be used to extract water from a property. 
Professional and efficient water extraction includes the extraction of water from damp or moist surfaces that might not even have standing water on them. Water that is left trapped between cracks and crevices can cause significant issues later on. 
Also, if not done correctly, water extraction can cause water damage to worsen. Especially if other factors are in play and water might not be the root problem. This is why hiring professionals to inspect the issue and extract water properly is recommended. 
What is Water Mitigation?
Water mitigation is the process of preventing and reducing water damage before or after a disaster. The process refers to the complete cleaning, drying, and sanitizing of the residential or commercial property in order to minimize the severity of water damage.  
Water mitigation is planning ahead to try and keep your property safe from any water intrusions. It is always best to do this before a disaster has already occurred, but most people realize this after a disaster has already happened. Proper water mitigation before a disaster can save you lots of wasted time and money later on. 
The water mitigation process could mean adding additional drainage solutions like gutters to your property, improving the structural conditions, installing a sump pump in your basement, or anything else that might help keep water out of your property. 
Which process do you require? 
For complete water restoration, both extraction and mitigation are essential. Water extraction will remove water from where it shouldn't be, and mitigation will prevent further water from entering your property at all. Professional water damage restorers usually use the process of mitigation first to prevent any further damages and then use extraction to completely get rid of the standing water and other materials that might cause damage to the property. 
If you are unsure of whether you need extraction or mitigation, it is always a good idea to call for professional help. Professional water damage remediators like us at 911 Restoration of Madison can help you be certain of what you and your property require and help you along the whole process.  
While dealing with water damage, the quality of water that has entered your home is a key factor. Water can be filthy and have harmful effects on a person's health. Understanding what kind of water has entered your house and if it is safe to be around is very important. Blackwater from sources like sewage, river floods, and other places can be especially dangerous or even deadly to a person's health. 
911 Restoration of Madison 
It is best not to wait at all when it comes to water damage. Waiting will only lead to more severe damage, and it gets more complicated and more expensive to restore and repair. Use the information we have provided above to save your property from getting ruined. Call for professional help to ensure you and your property are completely safe. 
All water damage is different. Our team of experts in Madison is professionally trained, and IICRC certified to inspect and handle all kinds of water damage to your property. You can reach us at (608) 514-0420 24/7 every day of the year. The 911 Restoration team will be at your door in just 45 minutes after your call to inspect your property thoroughly. They will work closely with you in these challenging times and help you get a complete and fresh start!