Water Damage in Madison
Weather Alert: If you are experiencing pipe bursts from the cold weather, call us today for emergency assistance!
911 Restoration of Madison
Make 911 Restoration of Madison your first and only choice for property restoration. Our IICRC certified staff promises comprehensive service, from the initial cleanup to final repairs, mold removal, and sanitization. We know how precious your property is to you, and we do whatever it takes to leave your home or business in brand new condition.
Our expert technicians are here for you 24/7/365. We guarantee an arrival time of 45 minutes or less. We know a speedy response is the best way to offer peace of mind for our customers. Every worker has completed thorough training and is equipped to bring you the very best service. We take care of everything from water damage restoration and mold remediation to fire cleanup and property sanitization.
At 911 Restoration of Madison, we offer a Fresh Start with our comprehensive selection of property damage restoration services, including but not limited to:
Whether you're a Madison homeowner or business owner, 911 Restoration of Madison is your Fresh Start! We'll communicate with you throughout the entire process, help answer questions related to insurance, and restore your property to its pre-damaged condition. One of our IICRC-certified teams is dispatched within 45 minutes of your call! Contact us today, and one of our friendly representatives will assist you in finding the nearest Madison location.
Serving the communities of Deforest, Madison, Verona, Waunakee and surrounding areas. 
Water Damage Restoration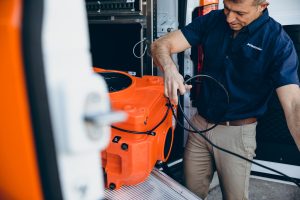 The water damage restoration Madison WI experts at 911 Restoration are ready to be at your door in 45 minutes or less. Call us any hour of the day or night, every single day of the year.
We provide full-service water damage restoration, covering everything from water and sewage extraction to roof repair. Whether you've had a frozen pipe burst, washer machine flood, ceiling leak, ice dam disaster, or any other water-related incident, our crew can handle it. They work swiftly to minimize your damages, dry your property, and repair destroyed structures. In the end, you're left with a property that feels as clean and strong as the day you bought it.
You can even count on our water damage restoration workers to conduct a mold inspection and handle mold removal.
It is possible to enjoy a Fresh Start after water damage in Madison. Just call 911 Restoration today.
911 Restoration is a nationwide company, and your Madison branch is locally owned and operated. We are licensed, insured, and bonded. Our technicians serve both residential and commercial properties in Madison, Middleton, Waunakee, and surrounding regions.
We pride ourselves on providing more than restoration services. Our staff works hard to give you answers. When your greatest asset is at stake, a little clarity can do a lot to help you find true peace of mind. This is why we offer a free visual inspection (for property owners only) and a free insurance consultation. 911 Restoration also works with all insurance providers.
No matter what you're going through, you can find guidance, relief, and practical solutions with 911 Restoration of Madison. Call today for the service you deserve.
Service area map
Sanitization Services and Disinfection Solutions
The burden of maintaining a clean, sanitized space is higher than ever. Whether you own a home or a business, you may feel at a loss to keep up with current recommendations from the CDC. Don't worry. 911 Restoration of Madison is here to put your mind at ease.
Our sanitization technicians are IICRC-certified and trained to follow all EPA and CDC protocols. They disinfect your space thoroughly, whether you own office space, commercial facility, or private residence. Our crew also communicates clearly and readily answers questions, so you are prepared with the insight you need to help your own customers and staff feel at ease on your property.
Sanitization doesn't have to be a heavy burden. Just call 911 Restoration of Madison and get the support you need.
Mold Removal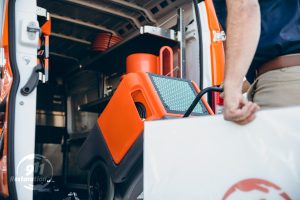 For mold removal in Madison, Middleton, or throughout the surrounding area, call 911 mold Restoration today.
Our certified mold remediation specialists provide a thorough mold inspection to put your mind at ease. If there is any growth on your property, they'll find it. They use only the safest and most effective mold removal methods. Our experts conclude mold remediation with structural dehumidifying to prevent a repeat infestation. They even handle repairs and carpet removal for any material permanently destroyed or stained by fungus.
Don't hold off on mold removal. For the sake of your health and your property, call 911 Restoration at the first sign of an infestation.
Sewage Backup Cleanup
A sewage backup may be a horrifying experience, but a full recovery is closer than you think. Call us literally any time, 24/7, and our sewage removal technicians will be there within 45 minutes. They work swiftly to extract sewage, sanitize your home or business, and dry the structure to its core.
At 911 Restoration, we believe in providing a Fresh Start. For this reason, our sewage backup cleanup crew goes beyond sewage removal to offer a mold inspection, mold removal, and property repairs.
Your home or business is not lost to you forever. For a clean, strong, fresh-smelling property, call 911 Restoration of Madison.
Fire and Smoke Damage Restoration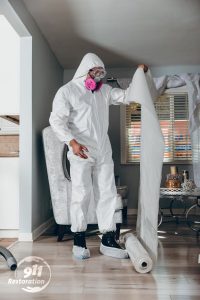 When you've had a property fire or puffback, you need real solutions, accurate information, and genuine compassion. You can find all three at 911 Restoration.
Our compassionate fire cleanup crew provides full-service fire damage restoration Wisconsin, Waunakee, and nearby cities. We cover everything, including soda blasting, smoke removal for furniture and dishes, and permanent odor removal. We make sure every fire damage restoration technician is certified in flood clean-up so they can help in the event of a firehose flood. Our fire and water damage restoration crew in Madison will take care of everything. They also handle all repairs, from your roof to your drywall.
Whether you've had a major fire or simply need to purify your space after contamination from cigarette smoke, we can help. Call 911 Restoration today.
Disaster Restoration
If you're not sure who to call for help with your property disaster, call certified disaster Restoration.
Not every property crisis fits into an easy category. Our goal is to provide our neighbors with comprehensive service in any disaster, no matter how complex. That's why we train our technicians to handle fire, flood, fungus, and more. We serve both businesses and homes with full-service cleanup and repairs. Along the way, our disaster and water damage crew in Madison takes extra measures to ensure safety for our customers. They also communicate regularly so you always understand what they are doing and why.
We know this is a difficult time for you. Let us help you get through this disaster with peace of mind. Call 911 Restoration of Madison for a Fresh Start.
Commercial Restoration
When your commercial property is in crisis, you need a restoration contractor who understands your unique needs.
Our commercial restoration technicians are sensitive to your priorities as a business owner. They know that a threat to your facility or office is a threat to your bottom line. We guarantee 24/7 service and an arrival time of 45 minutes or less. Our staff works quickly to get you up and running again. Just as important, our highly trained technicians cover all necessary repairs, sanitization, and mold removal. This is our way of helping you maintain the high standards your buyers associate with your business.
911 Restoration of Madison covers every need you could possibly have, including water damage restoration, fire cleanup, and more. Call now for high-quality commercial damage restoration.