Mold Removal in Madison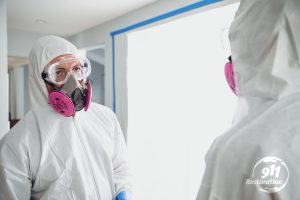 A mold infestation does not always appear in plain sight. You may have mold growing in your walls, hidden in your pipes, or thriving beneath your carpet. This is why it's important to take every sign of growth seriously. If you smell a mildew-like odor or experience unexplained health issues such as dizziness, headaches, or new allergies, you may have mold.
Call 911 Restoration of Madison if you suspect the presence of fungus in your home or business. Our IICRC certified mold remediation specialists in Madison provide a comprehensive mold inspection. They are dedicated and thorough, determined to eliminate every trace of growth from your property.
From water damage restoration to fire damage restoration service Milwaukee, our goal at 911 Restoration is to provide all our neighbors with a Fresh Start. Mold removal is no different. In addition to removing mold, our technicians also address the stains and damages an infestation leaves behind. They do everything from carpet removal to drywall repair. We even guard your home or business against future infestation with structural dehumidifying.
911 Restoration is licensed, insured, and bonded. We work with all types of insurance and provide mold removal services in Madison for both residential and commercial property owners. We serve homes and businesses in Madison and throughout neighboring cities.
Above all, our mold cleanup experts treat you with compassion. They know how much your property means to you, and you can be sure our team will respect your home or business as if it were their own.
For the best mold removal in Madison, Middleton, Waunakee, and beyond, call 911 Restoration today.
Safe, Reliable Black Mold Remediation in Madison
When many property owners discover a dark-colored mold colony, their first concern is whether it's black mold.
Black mold is an infamously dangerous variety of fungus. It is often a black-green color and slimy in appearance (or powdery when dry). However, we advise you against diagnosing your own mold problem. Always assume your specific infestation is dangerous and keep your distance from the colony until a certified mold inspection contractor arrives.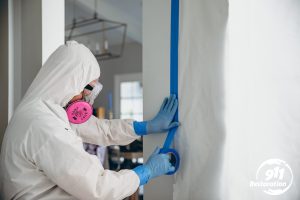 While you should pursue black mold removal with a sense of urgency, be aware that this is not the only harmful type of infestation. Other types of mold may be toxigenic or allergenic. This means that without prompt mold remediation, such colonies can cause a range of health issues including allergies and asthma. This occurs when the fungus releases dangerous particles into the air. You then breathe these particles into your body.
Our trained and certified mold decontamination specialists are well aware of the risks mold poses to your health. This is why they use the utmost caution when addressing your mold problem. You may have found do-it-yourself mold removal techniques such as scrubbing at the fungus with bleach. While these methods are generally ineffective, they are also dangerous. By scrubbing, you force the colony to release mycotoxins and spores. However, our mold remediation experts know how to handle removal while minimizing the spread of microscopic particles.
If you think there is black mold in your house or business, do not panic. Just call 911 Restoration for a friendly, reliable mold inspection. We'll eliminate your infestation safely so you can breathe easy once again.
Why Do I Need a Certified Mold Removal Specialist?
It doesn't matter if you suspect an infestation after recent water damage restoration Madison WI service or if you see a colony growing in plain sight. You need a certified mold remediation contractor to provide a reliable mold inspection.
For some property owners, mold removal may seem like a task they can handle themselves. But mold is a stubborn life form, and it cannot be simply scrubbed away. Truly effective mold remediation requires a multi-step process conducted by trained professionals.
Our water damage restoration and mold decontamination experts begin with a thorough mold inspection. This ensures removal of all existing colonies—not just the colonies you can see. Fungus reproduces through airborne spores that often travels to hidden spaces. If you only conduct mold cleanup for a visible infestation, there's a high likelihood that you're neglecting additional growth hidden out of sight.
After the mold inspection, our workers remove the mold using the most advanced tools and procedures. Then, they use professional fans to dehumidify the structure where mold grew. Mold spores require a damp surface in order to create a colony. Dehumidifying makes the structure inhospitable to future growth.
Finally, our mold remediation crew takes care of any necessary repairs. Mold eats away at the materials that hold your property together. If anything is left stained or weakened, our workers fix or replace the contaminated material.
Customers who call us for water damage restoration can expect us to complete flood cleanup service with mold inspection and mold removal. If you turned to a different company for water damage restoration and are now concerned about mold development, give us a call. We're always happy to help you find a Fresh Start.
Resist the temptation to clean mold yourself. Save time and money; call 911 Restoration for a mold inspection in Madison, Middleton, and beyond.
Serving the communities of Deforest, Madison, Verona, Waunakee and surrounding areas.