Disaster Restoration in Madison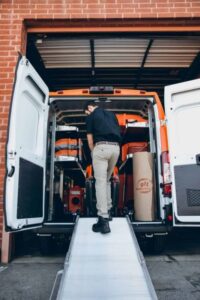 Not every property disaster is easy to categorize. Major storm damage can leave you with both water damage and mold contamination. Flames can leave you with smoke stains as well as structural damage. If you've just been through a disaster and you're not sure who to call, turn to 911 Restoration of Madison. Our IICRC certified disaster restoration contractors in Madison have been trained to confront any crisis.
At 911 Restoration, we understand the urgency of your situation. That's why we provide emergency restoration service 24/7/365. We even guarantee an arrival time of 45 minutes or less.
Our disaster restoration crew comes prepared for any eventuality. They are equipped to handle unsafe conditions. These technicians are also skilled in sanitization and property repairs. This is to ensure that we can provide a truly Fresh Start for you and your property. When you call us, you get more than water removal and smoke cleanup. You get a home or business that feels cleaner and stronger than ever.
911 Restoration is licensed, insured, and bonded. We are a nationwide company with a reputation for compassion and excellent service. Your Madison branch is locally owned and operated by neighbors who genuinely care about keeping our community looking beautiful and standing strong.
We provide both residential and commercial disaster cleanup services in Madison, Waunakee, Middleton, and the surrounding cities. No matter what type of damage you have or where you are in the Madison area, 911 Restoration is here for you.
Above all, our emergency restoration team is ready and waiting to serve you with understanding and transparency. We even offer a free visual inspection (for property owners only) and a free insurance consultation so you know exactly what to expect from the disaster restoration process. Our technicians do whatever they can to put your mind at ease.
This may be your darkest hour, but we promise: a bright new beginning waits just around the corner. Call 911 Restoration for a Fresh Start.
24-Hour Emergency Water Damage Restoration in Madison
Speed is of the essence in any disaster, but it's especially important to move quickly in a water-related crisis. The structure of your home or business absorbs water like a sponge. The longer it takes for you to receive water damage restoration, the more vulnerable you are to major problems like buckling, rotting, and mold contamination.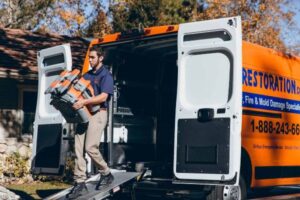 Our technicians are determined to prevent any avoidable water-related damages. This is why they are on-call for you 24 hours a day, every single day of the year. When you call us for emergency restoration, our crew is on the scene in 45 minutes or less… guaranteed.
We offer a wide range of water damage restoration services, including:
Emergency boarding up
Roof repair
Storm repair
Water removal
Leak detection
Structural drying and dehumidifying
Sanitization
Mold inspection
Structural testing
Structural repairs
And much more
Due to the diverse skills of our disaster restoration crew, we are able to offer a complete recovery in any water-related incident. Our technicians even pack out and store your at-risk belongings to keep them safe during the cleanup process.
Above all, our disaster restoration staff works hard to make sure you only have to make one call to find relief after a property nightmare. We do it all so you don't have to track down additional contractors or incur extra expenses. You have enough on your mind. Let us take the full burden of restoration off your plate.
For fast, comprehensive water damage restoration and disaster restoration in Madison and beyond, call 911 Restoration today. We're ready and waiting to guide you through this.
Does Insurance Cover Disaster Restoration?
If you're not sure whether your insurance provider covers all the services you need for a full recovery, we can help.
When you reach out to our team for emergency restoration, we send an expert for a free visual inspection. This professional takes a look at your damages and clarifies the road ahead, from timeline to expenses.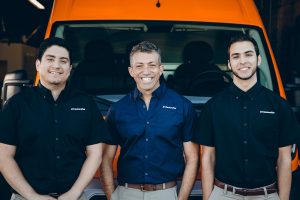 Once you have a clear picture of your disaster restoration needs, we offer a free insurance consultation. You don't have to bother tracking down your insurance provider for answers. Instead, we review your policy and explain your coverage in clear terms. You know exactly which costs are your provider's responsibility and which expenses fall to you.
You even have our full support through the complicated process of loss itemization. We do everything we can to make the insurance process easy. This includes filing your claim for you and billing your provider directly.
We know that when you call us for flood cleanup, fire restoration, or any other type of disaster restoration, you're living through a devastating life event. Our goal is to shine some light into this challenging moment and help you discover a Fresh Start.
Call now and let us know how we can help.
Serving the communities of Deforest, Madison, Verona, Waunakee and surrounding areas.