Water Damage and Mold Removal in Waunakee
At 911 Restoration of Madison, we are dedicated to protecting and preserving the beautiful properties populating "The Only Waunakee in the World." We believe our remarkable community deserves the very best restoration service from a reliable flood cleanup and fire damage repair contractor. Our goal is to give all our neighbors a Fresh Start after a disaster.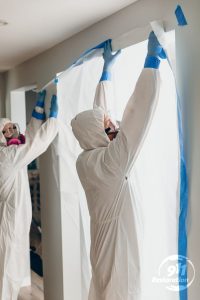 Whether you've been struck by storm damage, a flooded basement, or a pipe burst, you can reach us immediately. Our water damage restoration crew is on call 24 hours a day, 7 days a week. We guarantee a 45-minute arrival, no matter what time you reach out.
Our IICRC certified crew is staffed exclusively with highly trained professionals. These experts know how to safely manage all aspects of fire cleanup, water damage restoration, and mold removal. They do everything from cleanup to structural repairs. When you call us, you never have to deal with additional contractors.
We also keep you fully informed throughout the restoration process. This begins with a free visual inspection (for property owners only). We take a look at your pipe burst or fire damage, explain your options, and help you make the best choice for your home or business. We also offer a free insurance consultation to demystify the complicated insurance process. Once cleanup and restoration is underway, you can count on our technicians to provide regular updates and communicate clearly.
At 911 Restoration, we provide residential and commercial fire restoration, flood cleanup, and mold removal in Waunakee. We also serve the wider Madison area, including Middleton and Verona. We work with all insurance providers, and our business is licensed, insured, and bonded.
To us, you're more than a customer. You're a neighbor. You see that attitude in our compassionate service and personalized attention.
Call 911 Restoration of Madison and make a full recovery from a fire, pipe burst, flooded basement, or any other disaster.
Comprehensive Mold Remediation and Flood Cleanup in Waunakee
At 911 Restoration, we pride ourselves on providing comprehensive water damage restoration and mold removal (link) services. If you are not sure what this means, the explanation is simple:
We take care of everything you need for a Fresh Start.
For water damage restoration, our flood cleanup technicians don't just worry about water removal. They also pack out and store any belongings at risk of damage. They inspect your structure for issues such as rotting, buckling, or weakness. If you require any repairs or carpet removal, our water damage experts in Waunakee take care of it. The flood cleanup workers also handle your mold inspection and mold removal. These services come in addition to emergency water damage restoration tasks such as:
Boarding up
Storm repair
Roof repair
Leak detection
Sewage removal
Sanitization
Structural drying
And more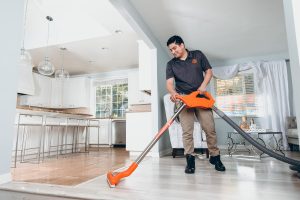 Our mold remediation efforts are just as comprehensive as our water damage restoration service in Waunakee.
First, a mold removal crew inspects your property thoroughly. They check for any sign of a hidden infestation. Because fungi reproduce through airborne spores, black mold on your wall could lead to more black mold hidden inside the structure.
Then, our technicians manage mold removal using professional tools and safe methods. Most varieties of mold release dangerous particles when you scrub at the colony. This is why we encourage you to call a certified mold remediation company like 911 Restoration. Please do not attempt mold removal yourself.
Our professionals conclude mold remediation with structural dehumidifying and any needed repairs. As always, you are left with a strong, clean property and genuine peace of mind.
Water damage restoration and mold removal service should be about more than just "cleaning up." Call 911 Restoration of Madison and look forward to a bright new beginning.
Does Insurance Cover All Fire Restoration Services?
If you need fire cleanup in Waunakee, you are probably overwhelmed with a host of questions. Most property owners are concerned first and foremost about the cost of smoke and fire damage repair.
Our fire restoration staff is eager to help you find the clarity you seek. First, we offer a free fire damage assessment (for property owners only). During this no-pressure consultation, a fire cleanup professional explains your options for recovery. They give you all the information you need to make the best decision for your home or business.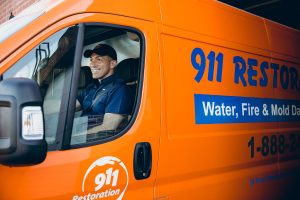 The next step is to sit down for a free insurance consultation. Fire restoration and smoke removal can be complex. You may require a range of services, including:
Smoke removal through sodablasting
Smoke damage cleaning for dishes
Smoke damage cleaning for furniture
Permanent odor removal
Fire damage repairs
Water damage restoration following firehose flooding
Mold inspection
Mold removal
And much more
It may not be clear which of these services your provider covers under the umbrella of "fire restoration." If you don't know, don't worry. We are happy to find those answers for you so you can go into the fire cleanup process with clear eyes.
Finally, our friendly staff is here to assist with all your insurance paperwork. They help with inventory and loss itemization. They file a claim on your behalf. And they bill your provider directly so you don't get stuck playing the middleman.
A full recovery from fire and smoke damage is easier than you think. Just call 911 Restoration of Madison for comprehensive fire cleanup in Waunakee and the surrounding area.
Servicing the cities of DeForest, Madison, Middleton, Verona, Waunakee, and surrounding areas.