About 911 Restoration of Madison
Becky Reed has been in the restoration business for 30 years. She grew up in Lannon, Wisconsin, and has always wanted to own a business.
About a year and a half ago, Becky decided to make a big change in her life by starting her own woman-owned restoration business.
After experiencing a lot of hardships in both her personal and business life, Becky wanted to give herself and others a "Fresh Start" through quality restoration services at 911 Restoration.
She gravitated toward 911 Restoration because of the company's good rapport around the industry and commitment to diversity.
"Being a woman business owner, it's very hard. Did a lot of research, found out that 911 Restoration has very good rapport around the industry. Heard positive results and news," said Becky.
Joining a "People First" Enterprise
Becky has extensive experience working for national restoration companies over the span of several decades. Many of her colleagues and clients enjoy working with her because she is compassionate, knows the restoration business, and has built connections and trust with people in the local community in Madison.
With her amiable and hard-working personality, Becky has also developed long-time relationships with different people all across the industry.
She always puts the customer first. Becky and her team at 911 Restoration of Madison will respond to any flood, fire, or mold emergency and ensure your property is safe from damage.
She previously worked in sales and marketing, but has always wanted to own her business. She chose to become the owner of 911 Restoration because of the flexibility and ability to change lives.
Before joining 911 Restoration, she had spent a lot of time out in the field, being far away from her family. She wanted a career where she could find a good work-family balance while managing her own business. 911 Restoration gave her a chance to find herself and spend more time with her family.
As an easy going person who loves to give back to the community and meet new people, Becky previously worked as a project manager to help individuals during Hurricane Katrina and Hurricane Harvey.
Becky's compassion and ability to communicate and empathize with others going through difficult situations or disasters makes her an asset to 911 Restoration.
Becky is dedicated to communicating urgent restoration needs with her Madison team and providing exceptional customer service and full transparency at 911 Restoration of Madison.
Becky has 4 children and 13 grandkids. Her father was an operating engineer who had a horse farm. She also adopted and rescued three chihuahuas from Texas. During her free time, she loves gardening and going on adventures while riding her Harley Davidson motorcycles across town.
A Commitment to Service, Compassion, and a Fresh Start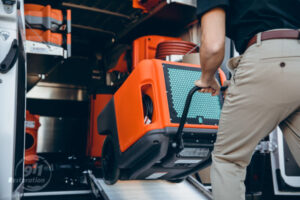 911 Restoration has been a great match for Becky. The company's emphasis on providing a "Fresh Start" to customers after a disaster is something that Becky greatly believes in.
Becky and her 911 Restoration of Madison team aim to help customers navigate an emergency with ease and peace of mind. Every flood, fire, or mold infestation is an opportunity for 911 Restoration to make an old property brand new again.
With a fun and positive attitude, Becky brings a wealth of expertise to the table at 911 Restoration of Madison. Whether it's a residential or commercial property that needs immediate restoration services, 911 Restoration will respond to the call right away. Becky is compassionate, understanding, and always willing to answer any questions you may have about the cost of repairs or full service restoration in Madison and surrounding areas.
Becky is committed to ensuring the highest quality standards for every restoration project. You can rest assured that the staff at 911 Restoration Madison are IICRC-certified and capable of handling all aspects of deep cleaning and restoration. They'll help you through every step of the process and make your life easier after experiencing property damage.
Becky's previous project management experience and ability to establish and maintain relationships with customers is what makes her an asset to this company. With her can-do attitude, Becky is the right person to lead the team at 911 Restoration of Madison through various disasters that may arise.
Becky believes that everyone deserves a "Fresh Start" in their lives. She is a testament to this truth and an inspiration to many who are looking to pursue their dreams and turn the chapter of a new day.
If you need restoration services in Madison or the surrounding area, don't hesitate to call 911 Restoration of Madison today. They'll arrive at your property in 45 minutes or less.