Water Damage and Mold Removal in Verona
When water, mold, or fire damage strikes, turn to 911 Restoration of Madison.
Our IICRC certified restoration crew is here for you 24/7/365. We guarantee an arrival time of 45 minutes or less and work at top speed to minimize your damage, limit costs, and restore your property to brand-new condition.
Every member of our staff has been trained in all aspects of flood cleanup, fire restoration, and mold removal. Whether you've been through a pipe burst, flooded basement, or puffback, they know how to provide a full recovery. One call is all it takes for a Fresh Start.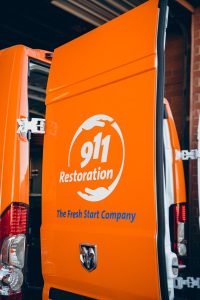 We hold ourselves to the highest standard of service. We also prioritize your peace of mind. Our experienced technicians understand the stress you endure when you struggle to save your home or business. They know you worry about costs and wonder if your property will ever be the same. With these concerns in mind, our flood cleanup and mold remediation crew serve you with compassion and clear communication. During a free visual inspection (for property owners only), they clearly explain what you need for a full recovery. Through our free insurance consultation, we outline your coverage so you know what to expect financially. Our water and fire damage staff even assists with loss itemization, files your claim for you, and bills your provider directly.
As a locally owned and operated business, we care about providing quality support for our neighbors. We serve both businesses and homes in Verona, Madison, Middleton, and the surrounding area. We are licensed, insured, and bonded. We also work with all insurance providers so we can keep our services affordable for everyone in our local community.
Whether you're reeling from a pipe burst, mold infestation, or storm damage, we can help. Call 911 Restoration of Madison today.
Call Us for Immediate Water Damage Restoration and Mold Removal in Verona
If you need water damage restoration, you need help immediately. Water seeps into the structure of your property, causing costly damages like buckling and mold contamination. The best away to avoid this type of destruction is through fast, efficient flood cleanup.
Reach out to our water damage restoration technicians at any hour of the day or night. They arrive at your door in 45 minutes or less. The flood cleanup crew quickly assesses the situation and strategizes the best water damage restoration procedure for limiting destruction.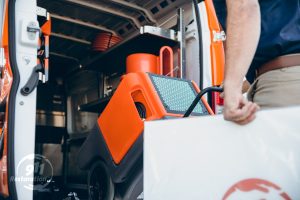 Depending on the needs of your situation, they may begin by packing out and storing at-risk belongings. Our crew also provides services such as emergency boarding up, storm repair, and roof repair. If you have a mysterious leak, they find its source and address the problem.
No matter what type of water invasion you're dealing with—pipe burst, flooded basement, or something else—they handle water extraction swiftly. Then, they disinfect and sanitize the area using professional grade fans.
When flood cleanup is complete, our water damage restoration crew moves onto structural repairs and mold remediation. We believe in giving you a Fresh Start. This means making sure all structure and surfaces are solid and sound.
All flood cleanup workers are certified mold removal specialists. You are at high risk of mold development after a water damage incident, especially a flooded basement. Our mold remediation crew examines your property carefully for any sign of infestation. If they discover growth, they take care of mold removal themselves, using safe techniques to avoid the spread of spores and mycotoxins. Our mold remediation services also include structural dehumidifying and repairs for contaminated or stained surfaces. As with everything we do, our mold removal process is designed to leave you with a home or business that feels as fresh as the day you moved in.
If you need water damage restoration or mold removal in Verona, the choice is clear. Call 911 Restoration today.
Compassionate Fire Restoration in Verona
If your property has been taken out by fire damage or smoke damage, your mind may be swimming with a million questions and concerns. Find reassurance right away by calling 911 Restoration of Madison.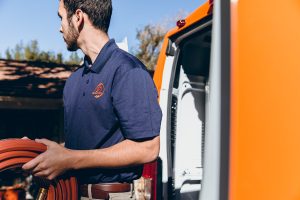 At 911 Restoration, we think of ourselves as more than a fire cleanup company. We're a fire information center. Our fire and smoke damage experts understand how overwhelming a disaster like yours can be. They are available 24/7 to answer all your questions and guide the way to fast solutions.
Reach out for a free fire damage assessment. A member of our fire restoration staff visits your property and explains your options in a no-obligation consultation. Should you decide to work with 911 Restoration, our team then reviews your insurance policy with your specific needs in mind. During a free insurance consultation, a friendly staff member explains your coverage in clear terms, helping you set financial expectations for fire cleanup and smoke removal. Finally, we assist with insurance paperwork so you can focus on putting your life back together.
As for the actual fire restoration process, you can count on us to cover all your fire cleanup and smoke removal needs. Our experts perform sodablasting to clean smoke damage. They promise permanent odor removal and take care of smoke removal for your furniture and dishes. The fire cleanup crew repairs all damaged structures and will even clean up after a firehose flood.
From beginning to end, you can turn to our staff for comprehensive, compassionate fire restoration.
Call now for the care you deserve.
Servicing the cities of DeForest, Madison, Middleton, Verona, Waunakee, and surrounding areas.