Sewage Backup and Cleanup Madison
At 911 Restoration of Madison, we know the gut-sinking feeling of discovering a sewage flood on your property. Whether it's your home or your business, you've worked so hard to make your space a refuge. A sewage backup in Madison makes that refuge feel contaminated and forever altered. Don't worry; your home or business can be brand new again. All it takes is one call to 911 Restoration of Madison.
Reach out at any hour of the day or night, and we'll be here. Our 24-hour 911 water restoration crew is on the scene in 45 minutes or less, guaranteed. They bring extensive training and all the equipment they need to ensure swift sewage water removal. Our sewage backup cleanup crew even comes prepared to make repairs, inspect for mold, and conduct mold removal. It's all part of our Fresh Start promise.
Our staff is IICRC certified, licensed, bonded, and insured. We train every member of our team extensively so we can be sure you get the top-quality service you deserve. We also pride ourselves on our compassion and empathy. Our sewage cleanup technicians are as invested in your recovery as you are. They treat your property as if it were their own.
Expect clear communication from our sewage restoration crew. We offer a free visual inspection (for property owners only) and a free insurance consultation. If you're not sure whether your insurance covers sewage water damage restoration, we'll find out. A sewage cleanup expert on staff reviews your policy, explains your coverage in clear terms, and assists with filing a claim.
As a locally owned and operated company, we care deeply about the quality of service we provide for our neighbors in Madison, Middleton, and beyond. We make sure our crew is equipped and prepared to provide comprehensive sewage cleanup for both homes and businesses.
If you need emergency sewage backup cleanup in Madison or the surrounding area, you know who to call. Reach out to 911 Restoration today. Call us at (608) 514-0420 and please allow us to offer you a free visual inspection.
24-Hour Sewage Flood Damage Restoration
The horrifying stench of a sewage backup is not the only reason we consider toilet water removal an emergency service. The fact is, a sewage backup introduces dangerous microorganisms into your home or business. From viruses to parasites, your property may become infested with organisms that can make you sick. Our sewage cleanup crew is determined to get rid of this risk as soon as possible.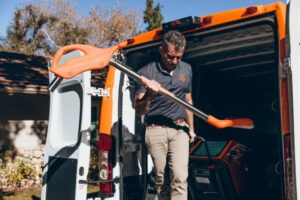 Your property is also at stake. Like any form of flood damage, a sewage overflow can cause destruction such as rotting floorboards or stained drywall. The faster you receive water damage restoration, the less destruction you have.
Our sewage backup cleanup crew understands the urgency of your situation. That's why they are available 24/7/365. When you call, our team is guaranteed to be at your home or business in 45 minutes or less.
As soon as our water damage restoration staff arrives, they focus on conducting complete water removal as swiftly as possible. They sanitize the area thoroughly in an effort to protect your health. Then, they dry and dehumidify the structure to prevent long-term water damage and mold contamination.
Speed is of the essence when it comes to a sewage backup. Fortunately, you can always count on 911 Restoration of Madison to deliver the urgency you deserve. Call 911 Restoration at (608) 514-0420 and learn how we can help.
Customer-Centered Sewage Restoration in Madison
To us, you're more than a customer. You're a neighbor who needs help in a crisis. When our sewage backup cleanup crew responds to your call for sewage restoration, you can expect peace of mind in addition to practical solutions.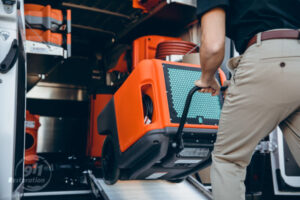 First, our water damage restoration workers focus on providing comprehensive service. They don't just stop at water removal and sanitization. They handle all repairs necessary to make your home or business feel new again. Our sewage restoration staff also inspects for mold and takes care of mold removal if they discover a budding infestation.
Second, our sewage cleanup workers communicate clearly and often. They know how important it is for you to be informed when your property is at stake. They explain every service they plan to provide and why you need it. We even offer a free visual inspection (for property owners only) and a free insurance consultation.
Finally, you see our dedication to your peace of mind through the compassion of our technicians. When our sewage cleanup crew approaches a new job, they see the crisis through your eyes. They anticipate your needs and understand your anxiety. This becomes evident in the speed of their work and their attention to detail. They work fast to minimize your damage.
If you need sewage cleanup and water damage restoration in Madison, Middleton, or the surrounding area, the choice is clear. Call us at (608) 514-0420 and learn how we can help.
Serving the communities of Deforest, Madison, Verona, Waunakee and surrounding areas.