Water Damage and Mold Removal in DeForest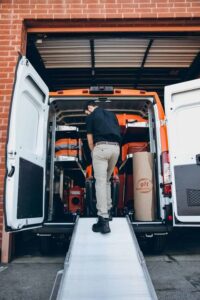 DeForest , WI, is home to some of the most stunning lakes in the country. But, because of our location, property owners  can also face wicked storms, frigid temperatures, flooding, and other disasters.
If you are looking for mold remediation, water damage, or fire damage restoration in DeForest Madison and the surrounding areas, look no further than 911 Restoration of Madison!
When your precious home or business has been damaged by water, mold, fire, or smoke, you deserve a Fresh Start.! Our skilled and experienced damage restoration crew is on call 24 hours a day, 7 days a week. We guarantee a 45-minute arrival time, no matter what time you reach out.
At 911 Restoration of Madison, we offer affordable, high-quality fire, water, and mold restoration services conducted by professionals who promise to treat your property as if it were their own property. We live and work in your area, keeping the special properties of DeForest beautiful and looking their best. 
Call us at (608) 514-0420 and please allow us to offer you a free visual inspection.
What to Expect From Our Water Damage Restoration Services
We have years of experience in making homes and businesses like yours look as good as new again. Our business is fully licensed and insured, so you can trust our certified service technicians from the moment they arrive. These experts know how to manage all aspects of fire cleanup, water damage restoration, and mold removal in DeForest from start to finish. 
Starting with your free visual inspection (for property owners only) of your burst pipe, smoke, fire, or flood damage, you will be fully informed during the entire disaster remediation process. We believe in total transparency, and all of our damage restoration work is done by our own specially trained technicians. With 911 Restoration of Madison, there are no outside contractors and no surprises. Only a professional team of experts that you can be confident will restore your home without leaving a trace of damage.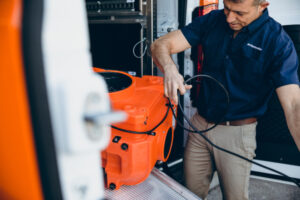 Whether you are dealing with storm damage, a flooded basement, or need fire, smoke, or mold removal, once your cleanup is underway, you can count on our technicians to provide regular updates on your disaster restoration in simple to understand language.
We can even help you navigate the often-confusing landscape of dealing with an insurance claim. 
Call us at (608) 514-0420 and learn how we can help.
Whether your water damage is the result of a water heater failure, pipe burst, ceiling leak, severe storm, or flooding, we are here for you. 911 Restoration specialists have the skills, expertise, and training to take on all forms of water damage, no matter how hazardous.
Mold Removal and Fire Damage Restoration in DeForest
Mold spores, especially black mold, can take hold in any location where there is enough moisture and a substrate for them to germinate. This means that virtually any surface that remains wet for too long can harbor mold. By utilizing the most advanced technology, such as vapor barriers, moisture readers, and even infrared technology, our specialists can find, stop, and destroy mold growth no matter where it is on your property.
When it comes to fire and smoke damage in homes and businesses, 911 Restoration's technicians are experts at eliminating the aftermath, including the ancillary damages. Our professionals remove smoke from the vents, odor from the air, and soot from the walls.
We know that facing a damaged home can be distressing. We take all of the burden off of you so that you can relax and know that everything will be alright.
Call us at (608) 514-0420 and learn how we can help.
At 911 Restoration of Madison, we pride ourselves on providing comprehensive water damage restoration and mold removal services for all property owners in DeForest. Our goal is simple – when our work is finished, all we want you to be left with is a smile on your face and the Fresh Start that you deserve.!