Is My Pet a Fire Hazard?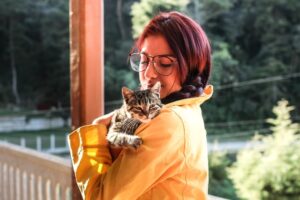 Your furry friends are fun to have around, but they can also be dangerous to your property. You might be wondering how, but pets can accidentally start fires. According to The National Fire Protection Association, nearly 1000 fires are started each year by pets.
We aren't saying that they are running around deliberately setting your house on fire, but unfortunately, they are capable of accidentally setting fires in different ways.
If you face a similar accident, make sure you protect your pets and run out as soon as possible. Call the fire ambulance and a reputable restoration company like 911 Restoration. They are at your service 24/7 on any day of the week and cater to your needs within 45 minutes.
How Do Pets Start Fires?
Here are various ways in which pets can accidentally start house fires.
1.     Electrical Cords
Most of the causes of house fires are related to pets chewing electrical cords on the ground, and many have unfortunately died when chewing through them. That is why it is important to keep cords out of their reach, or use cord covers so that they are difficult to get to.
2.     Stoves and Heaters
Some ways pets can cause fire accidents in houses are accidentally turning on the stove, getting too close to open flames, or knocking over space heaters. Firefighters have told stories about fires that were started by pets.
Stoves with knobs are the second leading cause of pet-started house fires. Cats and smaller dogs can use them as stepping stones and accidentally turn them on when stepping on them. On the other hand, Larger dogs can jump up and turn the stoves on with their front paws. Open stoves could harm your pets and, in worst cases, lead to severe house fires.
Pet owners can prevent this by pet-proofing their homes. One way is to remove stove knobs when they leave their pets unattended or install childproof covers to protect the knobs from misadventures.
3.     Candles, Flames, and Glass Water Bowls
Curiosity can be dangerous to cats and pets most of the time. Little kittens like to investigate, and flickering flames have been able to draw cats to them; that is why never leave your cat unattended when you have the fireplace on or any scented candle on in your room. Ensure the candles or any flames are fully extinguished when leaving the house, or even your room, so you don't come back to an accident.
Cats and dogs can easily knock over candles. That is why never leave an open flame unattended. If you want to keep your pets and house safe from fires, go for battery-operated flameless candles as an alternative. This way, you can enjoy the ambiance of candles without any danger.
Another way fires can start is by leaving clear glass water bowls outside on wooden decks and porches. The clear glass acts as a magnifying glass and directs sun rays onto the wood below. This can start a fire and put you, your pet, and your property in danger. Never leave water bowls outside during the day when the sun is out.
Steps to Take to Make Sure My Pet and Home Are Safe
Emergencies like house fires can happen at any moment, no matter how hard we try to prevent them. In such cases, it is best to prepare ourselves and our pets when they do. Here are a few tips concerning fire safety in your home.
Install monitored smoke detectors- if you're concerned about a fire potentially starting because you leave your pets unattended at home due to work, installing monitored smoke detectors is always a wise choice. If a fire starts, the firefighters will be notified and respond, even if you're not home.
Note your pet's napping or hiding place- this is important in emergencies like house fires. Most of the time, due to stress, pets would retrieve to their hiding place to feel safer, but this would make it difficult for you to find them. Evacuating as soon as possible is necessary for house fires, and that is it is important to know where your pet might be to run out quickly with them.
Decide escape routes- let your family members know about them and train your pets to escape using the routes you've decided.
Pet-proof your home- ensure no areas or things are lying around that could cause fires and harm your pets. Keep all electrical cords out of reach, blow out or extinguish open flames and child-proof stove knobs to protect your pet and home. It is not a very smart decision to leave your pet unattended with all these hazardous things lying around.
Get a rescue alert sticker- place this on the front door, so the rescue workers know you have pets in your home in case of emergencies.
Call The Professionals for Their Services!
911 Restoration is a reputable Restoration company in Madison; we have professional working staff that can easily handle firehouses and restoration of the place. Call now at (608) 514-0420!