Maintenance Checklist for Residential Buildings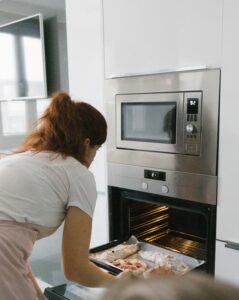 As November is just a couple of months away, we advise homeowners to follow our November maintenance checklist to keep their properties well-maintained. November brings a transition to colder weather, shorter days, and families prefer to spend more time indoors.
Additionally, the month of November also brings planning and preparation for Thanksgiving and the holiday season. It's said prevention is better than cure, and we couldn't agree more. By following and performing the tasks on our November maintenance residential building checklist, you can easily prevent the risk of water or fire damage hence avoid the emergency and high cost of home damage restoration services.
Let's get started…
Maintenance Checklist for Residential Buildings
Here are the tasks you need to focus on:
Spruce up your kitchen
Did you know that according to the July 2020 report released by NFPA:
An estimated 172,900 home fires started from cooking activities.
These home fires by cooking activities resulted in 4,820 injuries, an average of 550 deaths, and over $1 billion in property damage.
61 percent of home fires and 78 percent of injuries resulted from home cooking fires
Home cooking fire incidents peak at Thanksgiving and Christmas
Make sure your kitchen is functional to practice safe cooking. Therefore, before you fire up the cooking range to prepare your Thanksgiving dinner, clean it up and check for gas leaks. Also, keep flammable materials away from the cooking range/oven. And make sure to have a fire extinguisher ready for emergencies. It will help you be prepared to tackle small fires at home and prevent them from gaining momentum.
Schedule a Plumbing Maintenance Service to Get All Existing and Potential Plumbing Issues Resolved
Schedule a maintenance service to get all the pipes, sewer, and drains checked and cleared if clogged. Get your plumbing inspected by a professional to resolve existing and potential plumbing issues. A professional plumber can evaluate the condition of your pipes and advice you on the best methods to fix them in case of corrosion or holes in the pipes.
They can also wrap the pipes in your basement, helping you prepare your home for the winter season. Wrapping the pipes is an effective way to prevent pipes from freezing and bursting, which can otherwise lead to severe water damage to your property and belonging.
If the damage is not controlled and managed, it can result in a high cost of repair and replacements. You may need the assistance of a professional home restoration company to get your home in a livable state.
Check Bathroom for Leaks
Once you schedule a plumbing maintenance service, make sure to ask the plumber to check for leaks in your bathroom. Pipes and toilets may sweat a bit, but if there is constantly dripping and water pooling, get it inspected for leaks by a professional. The last thing you want is water damage from an unattended gusher.
Check Smoke and CO Detectors
With all the fun and cooking activities going around in your home in November and during the holiday season, it makes sense to check your smoke and CO detectors to prevent fires and smoke damage. Get started by removing the old batteries and replacing them with new ones.
Also, perform a simple test to ensure that your best defense against the fireplace and home cooking fires is up and running. Smoke detectors, when functional, can warn home occupants instantly if a fire breaks out.
This gives home occupants take action fast and extinguish it before it reaches a rapidly fast-spreading stage. Moreover, as home occupants are informed immediately of a fire, it helps them evacuate the premises safely without injuries and minimizing the risk of fatalities.
Inspect Your Home Fire Extinguisher
Another important task on our November maintenance checklist is the inspection of your home fire extinguisher. If you don't have one, then make sure to buy it before the holidays. According to the USFA (U.S. Fire Administration), fire extinguishers are of different types and made to combat various types of blazes such as:
Class A: Ordinary materials such as cloth, paper, and wood
Class B: Flammable liquids
Class C: Appliance and electrical
Class D: Metals
Class K: Cooking oils
Some extinguishers are multi-purpose. They are labeled ABC or BC. Therefore, make sure to invest in the best one according to your requirements.
If you already have a fire extinguisher, that's great. However, you must inspect and check it for functionality. This is because if it is not kept in operating condition, it may be of no value, as you may not be able to put out a fire with it.
Therefore, to ensure optimum functionality of your fire extinguisher:
Check the pressure gauge. It indicates the device is in proper operating range.
Next, look for physical damage to the nozzles or hose.
Keep it clean from oil, grease, and dust.
Make sure to follow our checklist to keep your home safe from potential water and fire damage. However, accidents happen when least expected. This is when act fast to prevent costly damages and ensure quick repairs.
Contact 911 Restoration of Madison for home restoration after fire or water damage. Our home restoration experts will be at your service right away. We will help you clean up, repair, and restore your home to its livable state in the fastest time. Give us a chance to serve you.