Protecting Your Business Documents from Water & Fire Damage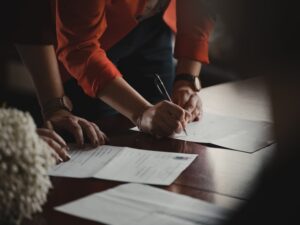 Name a business that runs without using any form or type of paper.
The answer? None!
Paper, at some point in time, comes into the picture one way or the other. As much as the world has progressed in science and technology, we still need to have everything in black and white.
You have to keep records of your day-to-day business operations, invoices, contracts/agreements, accounts, and so forth. Paper is all the evidence that you have regarding your business, you must prepare for any unforeseen situation like a fire, or rain, or flood.
These are all-natural and uncalled for calamities but they can eat up all your business evidence and leave you with nothing. To save all your documents, every business owner must prepare for the protection of all hard copies way in advance before feeling threatened by fire or rain situations.
How to Protect Your Documents after a Disaster?
Below is a constructive plan on where to start protecting your documents and how to organize this important ordeal.
Data Classification and Prioritization
Every business may have its own sets of important documents so naming the categories, in general, is not a fair option here. We must instead categorize all the documents, organize them and prioritize them in the order of importance to the business.
Most importantly the first pair of documents must include all critical documents. This would include maps of the building/office. Schematics of the building, contact information of critical staff, important individuals such as engineers, or the people who know all entry and exit points of the property.
After critical documents, you must move on to the set of essential documents. Essential documents may include all those documents that are important to your business and may be required in case of an emergency. These documents may include employee, client, and vendor recordsalong with payroll, agreements, inventory, licenses, permits, contracts, insurance policies, documents required by regulators, and business legitimacy documents.
After securing the critical and essential documents, get on to other important documents. Important documents may include any document that only has a single copy and would be difficult to replace. Important documents would include all legal records, tax documents, software licenses or product keys, lease agreements, property deeds, receipts, legal records, and service contracts.
After preparing to protect important documents, try to save all useful documents now. These are documents that do not pose a threat to your everyday business or operations even if you lose them. These documents are replaceable. The set of useful documents may include ledgers, bank statements, old receipts, and any instruction manuals.
Now in terms of priority, we are descending the list and all the non-essential documents are those where you need not put any effort to save or protect them. These will not pose any threat to your business routine if lost. This list of documents will include phone books, meeting notes, tax return documents older than a decade, and inactive service contracts.
Also, while categorizing your documents make a key as to which documents are physical and which are electronic documents. Make sure that you do have backup and locations mentioned on the key. This key could have several copies and must be placed with all critical, essential, and useful documents.
Data Backup and Restoration
After categorizing your documents, you must find ways to form concrete backups of all your data at multiple locations. This may include physical copies, digital copies, on-site storage, and off-site storage. Store the documents as you have categorized them.
For storing copies, you may have a safe box or a deposit box. You can keep all original critical and essential documents off-site in the storage or deposit box and have their copies made and kept on-site. Beware of flood zones before choosing a deposit box or a storage box. The storage box of the bank and the bank itself must not be in a flood zone.
While creating an office, bear the cost of adding a couple of fire and impact-resistant file cabinets to the furniture. This way you can lock all-important on-site documents in those cabinets and keep them at the topmost level of your office building. If you have a basement in your office, avoid keeping any documents there as a flood will affect it the most.
Contact 911 Restoration for a Robust Documents Restoration Protection
You can be hassle-free by simply getting a documents restoration plan from 911 Restoration. Our experts are fully equipped to work with your team to formulate a document disaster recovery plan. This way the specialists will know that what plan do they need to activate in the case and how do they need to recover damaged documents from water. 911 Restoration Madison has a dedicated 24 hours priority service helpline center to help you in your greatest time of need.